The color pink and bake sales go together like peanut butter & jelly.
Whenever I think of baked goods, I always picture pink, pink boxes, pink foods, pink icing… in my mind the color is unavoidable and tends to creep into my designs here too.
I had the opportunity of baking these pink lemonade cupcakes this week which were the muse for the entire design. I've added the photo of the cupcakes together with some graphics to create this pink retro styled cupcake bake sale flyer.
You don't have to have a pink themed event to use the flyer. The image shows how the flyer looks with some text added. You can save the background image as a blank template for you to use to fill in your own information like most of the flyers on this site.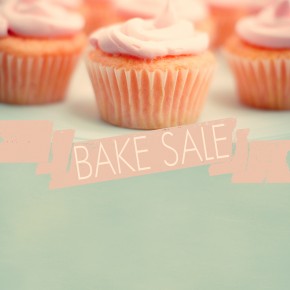 Click on the above image to open and save the image to use as a background for your flyer.
The fonts I used in the example are: Futura Lt / Futura Hv / Angelina. The text in the banner on the file to download say the words: "bake sale".