This post shares a free blush pink & glitter gold bake sale flyer background template. I also share my tips and tricks for how to best print out your event flyers.
Free image background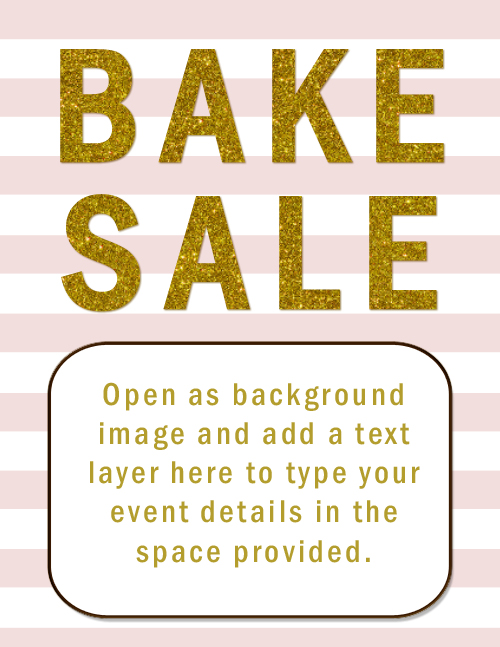 Directions: Save image and open as background image in a word processor or photo editor and add a text layer in the white box area to type your event details in the space provided on the flyer.
How to print flyers
Flyer printing used to be something that was done by large scale printers in huge quantities. Printing large runs of flyers can get expensive, depending on your budget; you may opt to print your own flyers instead of having them professionally printed off site. This may have once been a big deal and a major difference in quality, but not anymore. Most of the home and small business inkjet and laser printers do a tremendous job of making high quality prints on a budget.
What type of paper should you use?
Bright high quality paper versus standard copy paper.
One thing that you can do to increase the visual appeal and make your flyer look more professional is to use a high quality paper for printing. If you check at your local office supply store you will see tons of options for bright white, heavy weight, brochure and flyer papers. There are two things to consider when purchasing specialty paper for your print project: the weight of the paper, usually noted in pounds or lb and the brightness of the paper.
If you look at typical old copy paper, the standard copy paper has a weight of 20lbs and a brightness of 92. Specialty laser paper made to be bright white has a brightness scale of 98 and the weight is 28lbs, this means that the paper will produce more vivid colors that will pop when printed and this type of paper also holds the ink better making the prints look crisp and clear with the text being sharp and easy to read. The difference in the number scale between the papers do not change that much, but if you visually inspect the papers you can usually tell the difference between the brighter paper and the standard paper.
Make your flyers have an impact
What kind of printer to use?
The paper that you choose will have more of an impact depending on the type of printer you are using. The higher quality and more dpi (dots per inch) that your printer can produce will result in greater benefit in print quality from printing on specialty papers. If you have a 20 year old dot matrix printer, you could buy $1 per sheet heavy weight linen paper and it's not going to make a difference in your print quality. I would also only upgrade your paper choice if you are printing in color since I haven't noticed as big of a difference with the bright papers and black and white prints.
You will want to buy the paper style that matches the type of printer you have so you will want to take note of if you have a laser or inkjet printer and buy the corresponding paper to match. Inkjet prints soak into the paper as their inks are wetting, so the paper will be specifically made to absorb the wet inks. Laser prints sit on top of the paper and coat it, giving them a smoother feeling. If you rub your finger over a laser print out you can often feel the text or images rise off of the sheet.
Glossy finishes will produce more shine – similar to a photograph.
For business uses, when you hand out presentations of flyers to prospective clients on heavy paper it will subconsciously give the impression of more weight, wealth and quality. If your paper looks thin, dingy and dull, that can reflect badly on your services.