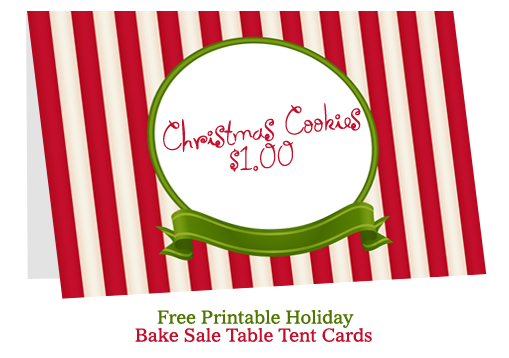 Just in time for Christmas bake sale season, I've created these free printable table tent cards that you can use to label what items you have for sale or list the prices for goodies. You can fold these cards in half and they will stand up in front of your items and it's a great way to decorate your table, plus provide details about your food. Print them out on card stock, cut out each rectangle and then fold in the center. You can write the name of your items, prices or any other info on the circle in the center of the design. Red stripes and a green banner decorate these giving them a festive holiday charm. These could also be stapled to the top of a baggie full of goodies such as Christmas cookies and used as a label that way too.
If you've found your way here and you are not hosting a bake sale, but just want to use these to decorate your place settings at your holiday dinner table, feel free to use them as escort cards, name seating place-cards or table number cards too!
View the Print File – 4 designs per sheet.